Sunday, July 30, 2006
Chocolate Cake
The Brighter Side of Data Mining
I am going to try a little experiment. This blog will always be primarily dedicated to news and views related to Sophia's CHD and parenting issues associated with CHDs in general. But, I would like to occasionally post about things outside of these parameters that I think my audience might appreciate. This will be the first of this type of post. Please let me know your thoughts on this idea or if you just aren't interested just skip this post.
Let me give you some personal background on my aesthetics. I studied art in college and have a fine art degree in painting and sculpture. I didn't go to an important school and I do not really create anything of note these days. I believe the purpose of art should be to show people fresh ways to see their world and in turn expand their view of the world. For the most part, I have been completely disillusioned with contemporary art. Particularly, I am bothered with the degree to which self-referentiality and strangeness is encouraged by the fine art establishment. It seems galleries are always looking for that "unique" voice. There is a presumption that the best way to communicate the human condition is by focusing on its fringes rather than the things common to all of human experience. Instead of communicating the depth of experience common to all of us, it becomes like an inside joke fostering higher and higher degrees of elitism. Let me be clear, I am not saying art should be this bland conservative thing lacking expression and doing little to offend or shock its audience. What I am saying instead is this. There are shocking aspects of our world and experience which are common to all of us. In my opinion, art should reference the things the viewer is unaware of in her/his self and the world it inhabits. Instead most contemporary art highlights a sort of idiosyncratic pretense. Because this is a false expression of the artist's experience, it can serve no purpose to the viewer other than alienation or sideshow curiosity.
And though I think, blogging can be quite self-referential and might even promote some degree of voyeurism. It seems less prone to the elitist tendencies of the art world. The blogosphere is a diversity of individual voices coming together in a sort of virtual public square without an editing elite to restrict whether or not a particular voice gets an audience. A direct exchange of ideas is encouraged as opposed to a disconnected presentation by a set of elite arbiters.
What if someone could create a graphical interface which could bring many of these voices together in one place to share their feelings? What if by doing so they could create an expression of the blogosphere's mood at any given time?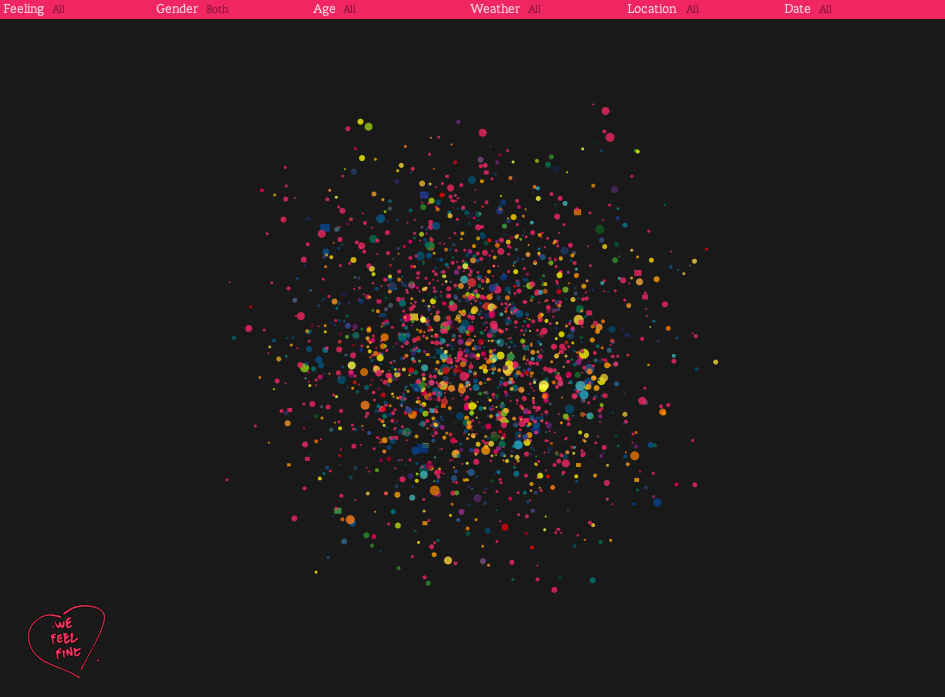 Jonathan Harris and Sepandar Kamvar have developed a couple of websites that use a form of data mining to scour through the text of blogs like this one. I know what you are thinking. But, in my opinion this is art and not espionage. It should be noted that the data they collect is never sold. This whole project is done for its artistic merit and has no economic agenda.
The data gathered is used to create a visual representation of the blogging community's feelings at any given time based on the voices of the individuals in the group. They search for specific terms like "I feel" or "I am feeling" and then collect that sentence along with the time, geography, and weather where the comment was recorded. They then represent each sentence as a colored shape whose size, shape and color is indicative of the sentence recorded. The concept is fairly intricate but the result is a really beautiful expression of how a community feels without overshadowing the individual voices that make up the community.
I highly recommend you spend some time exploring their creation at
We Feel Fine
and see how the internet is feeling.
The other site they have created is called
Lovelines
. It is an exploration of desires using a spectrum from love to hate. It is interesting. But I feel it lacks the beauty and grace of we feel fine.
Please let me know what you think of their project by commenting here. In my opinion, this is what art is all about.
Wednesday, July 26, 2006
Pasta With Tomato Sauce
Tuesday, July 25, 2006
What's Up Doc?
Monday, July 24, 2006
Sophia Loves To Paint
Friday, July 21, 2006
Juxtaposition
Baby You Can Drive My Car
Thursday, July 20, 2006
Sophia Can Wear Blue
Monday, July 17, 2006
Sammy's Surgery
Sunday, July 16, 2006
More About Spiritual Nakedness
Saturday, July 15, 2006
Flickr! Additions
The Dharma of Parenting and CHDs
Friday, July 14, 2006
Home Sweet Home!!!
Short Update and Make-A Wish Story
Thursday, July 13, 2006
Still Not Home.
Getting Back To Normal
Wednesday, July 12, 2006
A-B-C Always Be Closing
Oatmeal and Sats in the 90s
Feeds Still Going Well
Continuous Feeds
Tuesday, July 11, 2006
A Quick One Before Bed
New Stuff
Sitting Up, Playing and Laughing.
Mama and Baby
Better Morning
Monday, July 10, 2006
Finally Sleeping.
What A Morning...
Rough Night
Sunday, July 09, 2006
Photo with Mommy
Out of the PICU
Saturday, July 08, 2006
Breathing Treatments
One More In The PICU
Friday, July 07, 2006
Hooray! Sophia is off the vent.
Waiting...
Thursday, July 06, 2006
Chest is Closed
Update: Day 2 PICU 01
Blood
Wednesday, July 05, 2006
Surgery? Check. Now The PICU...
Quick Update 04
Quick Update 03
Quick Update 02
Quick Surgery Update
Tuesday, July 04, 2006
Phlebotomy? Check.
New Photos